Thank you for clicking through to learn more about the causes we support. All the organisations below have been championed and selected by individuals in our team and we are delighted to support the valuable work they do. We hope you don't mind, but we have included a link for each charity for any visitors who wish to do the same.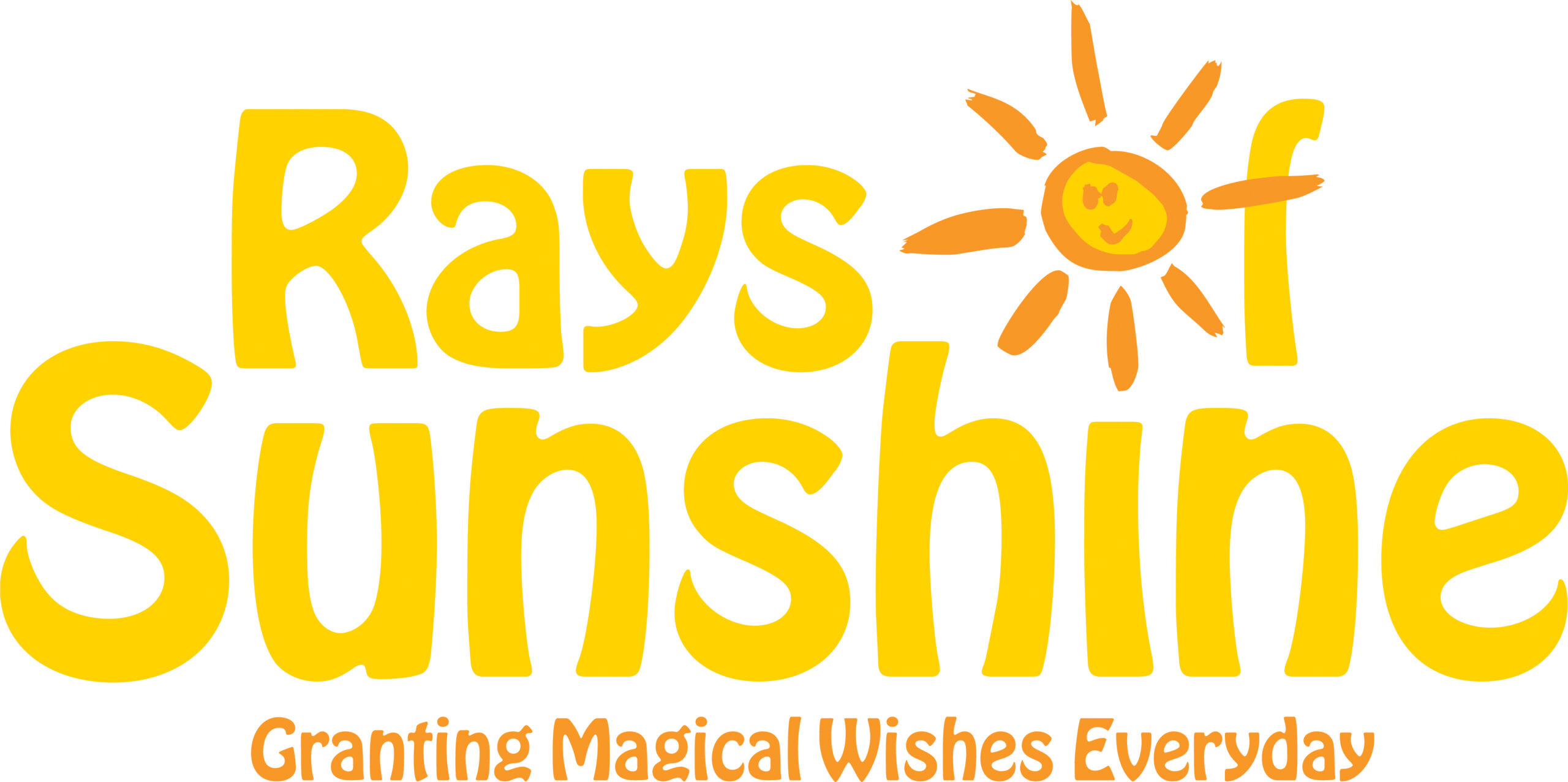 Rays of Sunshine

"Brightening the lives of seriously ill children across the UK aged 3 to 18 by granting wishes and providing ongoing support in hospitals."
Their mission:
There are 49,000 children and young people living in the UK with a serious or life-limiting illness. This figure is increasing every year.
Rays of Sunshine brightens the lives of seriously ill young people and their families by granting wishes and providing ongoing support within hospitals.
They believe that every child deserves to experience happiness and put their illness on hold – even if it is just for one day.
How they help:
They have been adapting their services during the Covid-19 pandemic to continue to bring sunshine into the lives of families both at home and in hospital who are more isolated than ever.
Every day of the year, Rays of Sunshine gives brave and deserving young people the chance to put their illness on hold and enjoy a moment of escape. Wishes can be as unique as the children themselves and whether a child wants to be a princess or a fireman for a day, own an iPad, meet their favourite celebrity or even a 'real-life' mermaid, or the Loch Ness Monster, Rays of Sunshine works hard to make that come true.
MacMillan Cancer Support
"Macmillan Cancer Support help everyone with cancer live life as fully as they can."
Their mission:
Being told 'you have cancer' can affect so much more than your health – it can also affect your family, your job, even your ability to pay the bills. But you're still you. They get
that. And, after over 100 years of helping people through cancer, they get what's most
important: that you're treated as a person, not just a patient.
At Macmillan, they won't rest, and won't settle for giving anything other than the best possible support for people with cancer.
How they help:
They give people with cancer everything they've got. They offer emotional, physical and financial support from the moment of diagnosis. Whether it's help paying bills, advice on benefits or treatment, or just to chat.
Parkinsons UK

"Together we will find a cure, and improve life for everybody affected by Parkinson's."
Their mission:
Parkinson's fund research into the most promising treatments for the disease. Until a cure is found they help everyone affected by Parkinson's. Fighting for fair treatment and better services. Making everyone see its real impact.
They're close to major breakthroughs. Funding the right research into the most promising treatments, they get closer to a cure every day.
How they help:
Parkinson's is the fastest growing neurological condition in the world. And currently there's no cure.
They're pushing to deliver a new treatment for Parkinson's by the end of 2024 and are determined to develop a cure in the shortest possible time.
They've already made vital discoveries that have revolutionised our understanding of Parkinson's and the brain.
Hospitality Action

"We offer vital assistance to all who work, or have worked within hospitality in the UK. "
Their mission:
They support the chefs, waiters, housekeepers and managers. The concierges, receptionists and kitchen porters, sommeliers, bartenders, catering assistants and cooks across the UK.
How they help:
Those who work in hotels, restaurants, pubs, bars or cafes, schools, hospitals or event venues, they give help, advice and support whenever times get tough.
Whatever the challenge – from physical illness or mental health issues to financial difficulty, family problems to addiction – Hospitality Action helps workers get back on their feet again.
Importantly, they have co-ordinated an industry-wide emergency appeal to support those hospitality workers impacted by widespread job losses, reduced hours, pay and closures due to the COVID-19.
Southern Smoke

"Southern Smoke is a US crisis relief organization for people in the food and beverage industry."
Their mission:
They provide funds directly to people in need that are battling health crises, winter storm damage, natural disasters, mental health needs and, of course, those affected by the COVID-19 pandemic. They're the safety net for the industry, taking care of their own each and every day.
How they help:
Their national Emergency Relief Fund supports the entire food and beverage food chain (from farmers and winemakers to dishwashers and servers) in all 50 US states. Specifically they have created funds in particular regions so we were able to support our friends in Chicago through the Chicago Restaurant Workers Relief Fund.
Demelza

"Demelza Hospice Care for Children provides care and support for seriously ill children, young people and their families."
Their mission:
Demelza believes every child and young person who has a serious or terminal condition should receive the care and attention they need to live the most fulfilling life they can, and that they and their families have the opportunity to build memories, for however long they have together.
They've been providing this care since 1998 and, through the generosity of others, they can continue to be there for families for years to come.
How they help:
When families are struggling to cope because their children have a serious or terminal condition, Demelza provides specialist care and support, bringing them back from breaking point.
Their hospices in South East London and Kent, and home care service in East Sussex provide tailored care to babies, children and young adults. Their facilities, nurses, therapists and dedicated volunteers give families the time and space to feel like families again.
Alzheimer's Research
"Our vision is a world where people are free from the fear, harm and heartbreak of dementia."
Their mission:
Alzheimer's Research UK is the UK's leading dementia research charity, dedicated to causes, diagnosis, prevention, treatment and cure. Backed by passionate scientists and supporters, they're challenging the way people think about dementia, uniting the big thinkers in the field and funding the innovative science that will deliver a cure.
Their mission is to bring about the first life changing dementia treatment by 2025.
How they help:
They're working across four key areas of action.
Understand the diseases that cause dementia.
Diagnose people earlier and more accurately.
Reduce risk, backed by the latest evidence.
Treat dementia effectively.
Through these important strands of work,
they're bringing about breakthroughs that will
change lives.
Bloody Good Period

"We fight for period equity. Because everyone deserves a bloody good period."
Their mission:
They fight for menstrual equity and the rights of women and all people who bleed. Many refugees, people in the asylum system and those living in poverty simply cannot afford period products.
People who menstruate suffer because of the culture of embarrassment and shame that exists around this natural, biological process. They don't believe that anyone should be at a disadvantage just because they menstruate.
How they help:
Unbelievably, tampons, pads and other must haves are not seen as 'essentials' and often not supplied through food banks and drop-in centres, leaving many who menstruate to either make the tough decision whether to forgo food and spend what little money they have on pads, or to make do with rags, old newspapers or toilet paper.
One of the main ways they support asylum seekers and refugees to access menstrual supplies is to donate them to drop-in centres across the UK.
Trussell Trust

"Working to stop UK hunger and poverty. Our network of food banks provides emergency food and support to people in crisis."
Their mission:
The Trussell Trust supports a nationwide network of food banks and provide emergency food and support to people locked in poverty, and campaign for change to end the need for food banks in the UK.
Their vision is for a UK without the need for food banks.
How they help:
In the UK, more than 14 million people are living in poverty – including 4.5 million children. They support more than 1,200 food bank centres in the UK to provide a minimum of three days' nutritionally balanced emergency food to people who have been referred in crisis, as well as support to help people resolve the crises they face.
Between April 2019 and March 2020, food banks in their network provided a record 1.9 million food supplies to people in crisis, an 18% increase on the previous year and during the coronavirus pandemic food banks have seen need rise even further.
Bees For Development

"We help some of the world's poorest people to build resilient livelihoods through beekeeping."
Their mission:
Bees for Development is a global charity which makes life better with bees. They promote sustainable beekeeping to combat poverty, build resilient livelihoods and benefit biodiversity.
They share beekeeping skills with people in the poorest communities of the world, giving a reliable, sustainable income for life. They use local skills, local materials and local bees.
How they help:
Many of the world's poorest people live near rich natural resources, including precious tropical forests and grasslands. Beekeeping offers a wonderful opportunity for these people to create rural livelihoods, protecting and maintaining these important habitats.
They identify and articulate the crucial role of beekeepers working and living in tropical forests. They advocate only for the use of local bee species or races, and always with local beekeeping skills and materials.