When we met the folks at Haptivate we discovered something amazing. There is an actual science to happiness – who knew? And that happiness is a skill that you can learn, meaning everyone has the potential to feel happier. We heard this and we were hooked. Who wouldn't want to be happier? Who wouldn't want society to be happier?
Haptivate run science-based mental wellbeing workshops that are informed by the latest advances in cognitive neuroscience. They transform these scientific findings into practical techniques and skills that can be learned to increase inner contentment and sustained happiness. 
We did a workshop and can vouch, it works. So much so that we decided to team up with Haptivate to help them create an identity and a platform for growth.
Brand Identity
We wanted to create a mark that encapsulates the intersection between science and happiness. This led us to the 'zen brain' – a 'human' brain icon with closed eyes and a gentle smile that represents lasting contentment. A literal smile in the mind.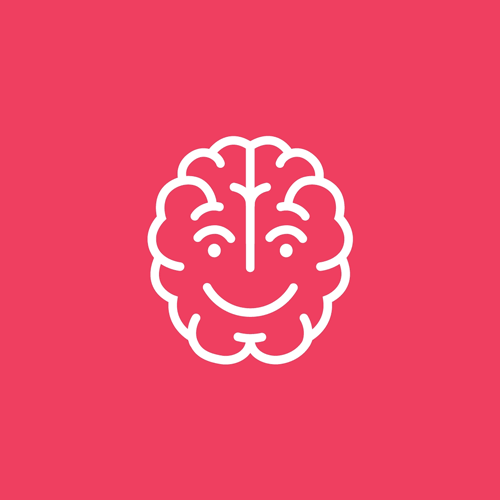 Product Strategy & Website
To succeed Haptivate needed to focus their attention on getting a bigger slice of employee training budgets – a particularly competitive area. 
We worked with Haptivate to streamline their product portfolio and make it easy for potential clients to find their way to the programmes most relevant to them. One of our favourites is the 'Haptivate 101' starter programme, where potential clients can have a taster of all the courses on offer, before drilling down to decide which theme suits their needs. This makes it much easier for HR professionals and directors to find the right programme for their employees and gives an easy access point to start their happiness journey.
The entire identity works seamlessly across all touch points from the 'zen brain' to the individual workshop presentations, website and stationery.
Spreading the Word
The website and workshop formats have given Haptivate a platform from which to attract new business. The Fairtrade Foundation, Braze and the National Housing Federation are among the new clients since the launch.
Straight Forward continues to support the amazing work Haptivate does and believe happiness is a valuable life skill that should be taught in schools alongside reading and writing. We run quarterly happiness workshops for our team, clients and friends. If you are interested in joining us please get in touch by emailing [email protected]