We are excited to confirm that, after 22 years of absence, Opal Fruits will be hitting the shelves again.
It was an absolute pleasure to work on this nostalgic branding project where, not only does the brand and packaging take you back to yesteryear, but the flavours are the original line up of four mouth-watering strawberry, orange, lemon and lime flavour – prepare to go back in time! 
Mike Foster, our creative director and founder, says: "When much-loved brands like Opal Fruits disappear they leave people wanting. People miss them, and bringing them back carries a certain weight of responsibility. You've got to do it properly if you are going to fully reconnect with the original consumers as well as draw in new ones."
Best Before 1998
And it's not as simple as digging into the archives and pulling out an old master of the design. "For starters, in this digital age, there were no packaging artworks for Opal Fruits, so we started working from old TV commercials and print ads. We quickly realised, though, that the most important archive existed in people's memories. So to ensure that we made a meaningful connection, we asked people what Opal Fruits meant to them."
Opal Fruits went through several iterations in its 38-year history, however, including the years when it transitioned to Starburst, so different people remember different things.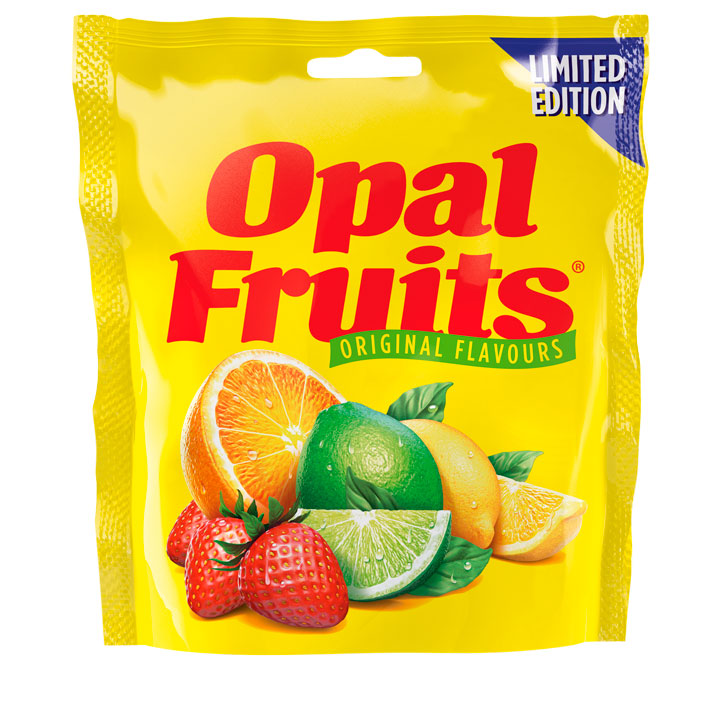 Old Meets New
"Nostalgia is interesting, because perceived and actual memories are two different things, and people are drawn to one particular iteration. The task for the designer is to marry all these factors and come up with a brand and packaging identity that works for today and is universally reminiscent of the past," says Mike.
To honour the production values of the original brand and ensure an authentic result, Straight Forward Design collaborated with experienced typographer David Bateman and illustrator Simon Critchley, who have both worked with the world's top FMCG brands for over 35 years.
"Mars doesn't own Opal Fruits," says Mike. "The people who love them do. To get the design absolutely right, we needed to immerse in the archive to find the right solution to transport people back to their youth."
Mars Wrigley says: "Straight Forward Design totally understands how important retro brands are to people and that it requires a special, nuanced approach to get it right. The design has generated a huge amount of excitement, and has taken Opal Fruits fans on a fun and emotional journey back in time." 
Read all about it: